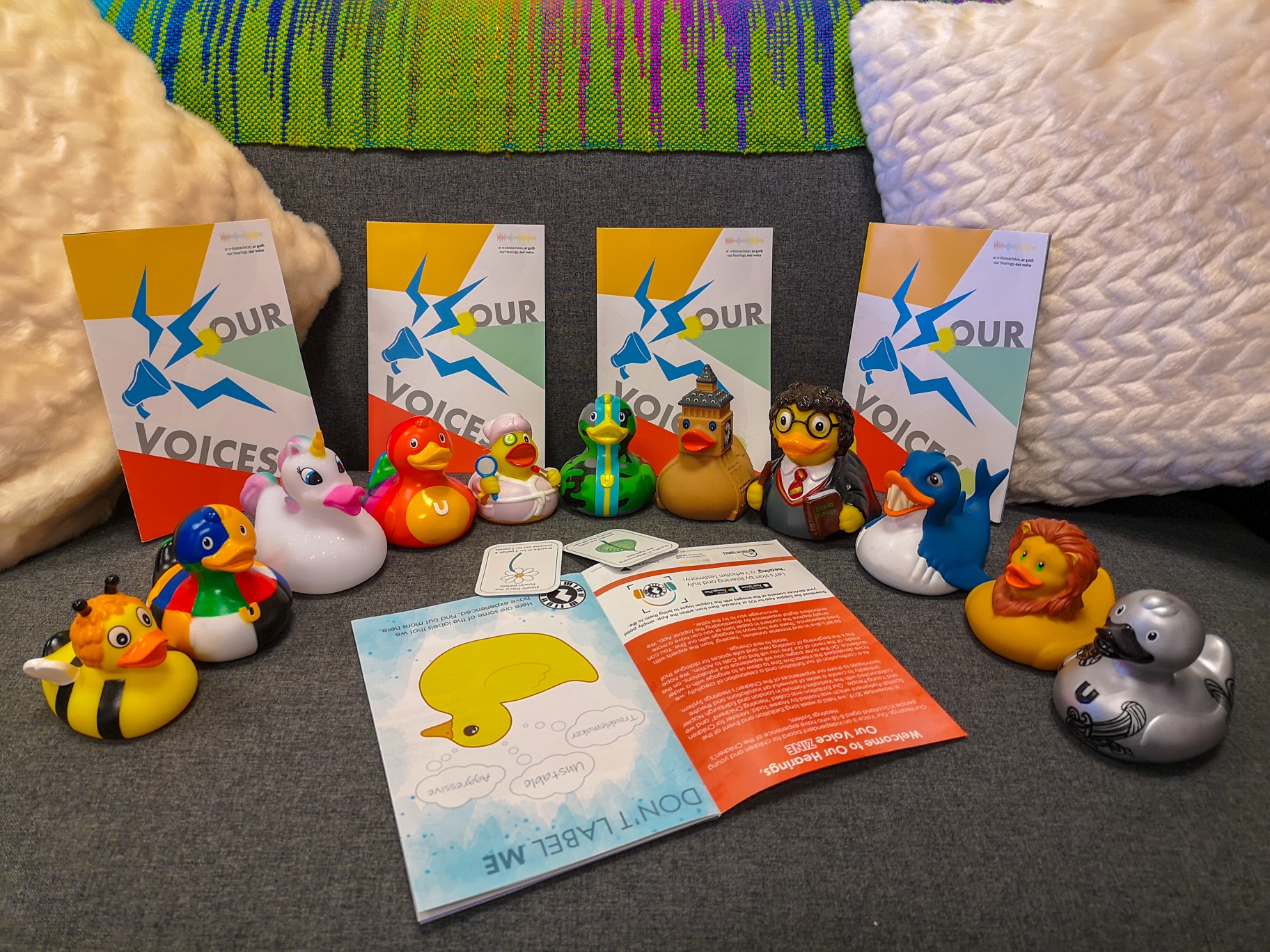 This week we officially launch our OHOV Zine, so we've written this blog to share the story of its creation. But to start with let's 'hear' the voices of the most important people…
"From the start to the finish, it was such a fun thing to be involved in, especially during lockdown as everyone had so much going on, but we knew we'd come together every Tuesday night to work on this. That was the only way I knew it was a Tuesday as I lost all track of the days during lockdown! I honestly can't believe we managed to do all that. I'm so amazed at what we've done and seeing the finished product at the end." Vincent
"It was a good experience. I learned lots of things, like digital stuff and I learned how to put forward my views in a leaflet. It's impressive, and for the short time we worked on it, we've produced something powerful and meaningful." Ben
So now for the story…
Back in November 2019, we held our 'Hearing Children?' Exhibition and Event at the Scottish Parliament, which was kindly hosted by Maree Todd, Minister for Children and Young People. Throughout the week we engaged with Ministers and officials to share the installations and talk about the work of OHOV.   The day after the UNCRC's 30th birthday, we had around 50 corporate parents and important decision makers from the Children's Hearings System come along to the Event to hear from the young people.
In preparation for our Event and Exhibition, we collaborated with Maggie, Sylvan and Alfie from the Verbatim Formula in London and John from Edinburgh Napier University School of Computing.   Using creative methods, they worked with the young people to create a series of powerful and interactive installations about their experiences of the Children's Hearings System. They used their skills and expertise to do this in a sensitive way and used techniques that would protect the young people's confidentiality. This is hugely important to us in the work we do at OHOV.
We had planned to take our 'Hearing Children?' Exhibition on tour in early 2020, to allow us to connect with a wider audience but of course…Covid-19 struck! So we needed to think about how we could share parts of our Exhibition in a different way.
At our last in-person Board Meeting in March 2020 (just before lockdown), the young people decided their top priority was to develop a 'brochure' to tell the adults in the Children's Hearings System what needed to change. They wanted to be a paper 'brochure' as they felt this would have more impact and they decided it should go out to go to every Panel Member, Reporter, Safeguarder in Scotland, as well as to Social Workers and others too.
So the idea of our OHOV Zine was born! This would allow the young people to share elements of our Exhibition alongside their Calls to Action for change. John from Edinburgh Napier University helped us to set up a 4 month Internship with Eli – a 4th year Digital Media and Interactive Design (DMID) student. Eli would work alongside the young people to co-design and produce their OHOV Zine, supported by another student called Matt who would develop the digital elements of the work. As with all projects at OHOV, we asked the young people who wanted to be involved in creating the Zine, and a few young people got onboard. The Zine Team got 'cracking', however, it was going to have to be done differently as the country was in lockdown…so we moved our creative adventure online!
Every Tuesday, for 16 weeks the Zine Teamers joined together online, full of creative ideas and energy, and quite honestly, they worked their socks off! Every young person brought their individual talents and strengths to the group and each took on specific roles. The initial stages included creating mood boards, choosing the shape, size, layout and design elements of the Zine and deciding which installations to include from the Exhibition. Eli, Matt and John helped the group think about the different ways they could use augmented reality to bring their Zine to life in a digital format.
As we progressed, our attention turned to the inside of our Zine and to developing the wording for our Calls to Action. We started out with a huge poster of over 50 things that the Board Members felt needed to change in the Children's Hearings System. This list was collated from all the different Board Meetings and the creative weekend ahead of the Exhibition. We worked as a group over a few weeks to pull out the key themes and messages before our resident wordsmith Bennie took on the mammoth task of creating the final wording.
Each week Eli continued to collaborate with the young people and build on the creative ideas, adding them to the developing Zine. Meanwhile Vincent created the illustrations for inside and Sharpay designed and produced the front cover. The group decided they wanted the back cover to offer some relaxation tips for their readers, and they came up with the genius idea of including peel off breathing cards.   We created mini mock-ups of our Zine and posted them out to the group, and as we entered the final stages we worked with our brilliant printers to produce the final product.
All the young people are incredibly proud of their final creation and we think they've done an amazing job, especially given the challenges that living through a pandemic has created! We really couldn't have done it without the collaboration and expertise of Eli, Matt and John from Edinburgh Napier University so we want to say a huge thank you to them! We've had the most fantastic experience of offering a student internship and we look forward to more creative collaborations in the future.
We hope you will find it inspiring but more importantly that it drives all the adults within the Children's Hearings System to take action.   Here's some final thoughts from Eli and our other Zine Teamers!
"I hope that children and young people can start to have more positive experiences when attending their Hearings. Even the thought of them, so they can see them more positively and actually find them useful and want to go." Sharpay
"I really like the end product. It's really good and quite emotive, but I think lots of young people will be able to relate to it. I think using our own experiences can help us influence adults and will help us achieve our Calls to Action for change within the Children's Hearings System.   I want to see the adults putting what we are saying in our Zine into actions. This is not just about saying oh that's great, well done, we want to see action." Bennie
"Working with the young people at Our Hearings, Our Voice has been one of the biggest emotional and creative experiences of my digital media career. From day one of collaborating with the Zine Team members, they welcomed me into their world and from their passion towards the Zine, they showed me the importance of the project and the lives it will change. Every member of the team shone through with their creativity and I wish them all the best with their future endeavours, as this is one project I will never forget." Eli Sinclair-McNally, student intern.