Interesting in finding out more about our Model of Practice? This section gives you an overview of our model…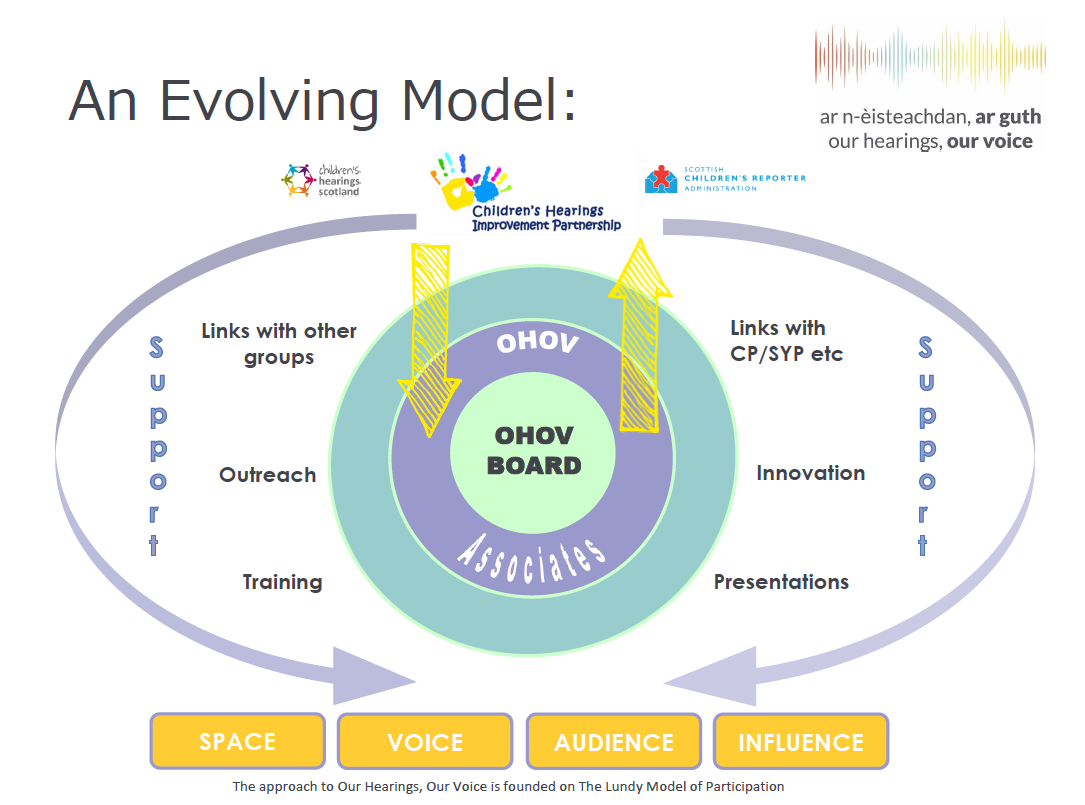 Foundations for our Model of Practice
OHOV has carefully chosen Professor Laura Lundy's Model of Participation as the foundational building blocks for its work with children and young people. This gives a solid rights-based and ethical framework for our work. The model is founded on the belief that children and young people must have agency over their own lives and have their rights respected, protected and fulfilled. They should be full and active participants in all decision-making that affects their lives.
Another layer of our work is to develop wider outreach opportunities to ensure Hearings experienced children and young people from across Scotland can feed into the work of Our Hearings, Our Voice and the improvement and reform of the Children's Hearings System.
Connecting with decision makers
Our Hearings, Our Voice reports regularly to the Children's Hearings Improvement Partnership (CHIP) who support the work of the OHOV Board by ensuring that change is implemented across partners. The Principal Reporter for the Scottish Children's Reporter Administration (SCRA) and the National Convener of Children's Hearings Scotland (CHS) are key links for Our Hearings, Our Voice.
Our approach
Our approach will include delivering training and presentations to corporate parents and people in powerful positions, to help them understand participation, children's rights, demonstrate trauma informed practice and how to involve children and young people in decision making.
One of our core values is innovation and we will regularly look to extend beyond our creative boundaries, working in ways that further develop our own participative practices.
 All of this has to be encapsulated by trauma informed, and appropriate levels of support for the children and young people involved with Our Hearings, Our Voice. We have developed a range of layers of support.
We ensure all of our work is co-designed, continues to be relevant and operates in a way that respects, protects and fulfils children and young people's rights.
Our Board Members
OHOV recruited 12 Board Members, from across Scotland, aged between 8 – 18, with a wide range of care experience. This core group attends OHOV Board Meetings and take part in additional projects, depending on their time and interests. Recruitment has continued to ensure growth, consistency, development and to ensure improvement and reform to the Hearings System reflects current issues and concerns.
An independent children and young people's board for the Children's Hearings System 
© 2023 OHOV