Language in the Children's Hearings System ...
Language in the Children's Hearings System
We are working on an exciting project to improve language in the Children's Hearings System. We've created a group called 'Language Leaders'.
Young people with Hearings experience, including those from OHOV, are working alongside a number of professionals who work in the Hearings System.
We really want to lead the way in making sure that all children who attend Hearings are supported to understand and be included, by changing the use of written and spoken language. The language that all children experience affects their wellbeing, sense of self and ability to thrive. Our overall aim for language in the Children's Hearings System is that:
Everyone involved will recognise the power of language and use words, tone and body language in a way which supports children to feel safe, included and at the centre of their Children's Hearing.
Here are some of the things that the Language Leaders group would like to see happen:
Language will be based on strengths – reports should not be written about the avoidance of problems ('no issues')
Reports and letters will be written in language that's easier to read and understand
Reports will be owned by the writer and the person(s) being written about
Children will have some control over what is discussed in their Hearing
Language will include the child's wishes
Reports will capture the young person's own chronology
The 'right' language will be continuously looked at and improved where needed
Irrelevant background information will be removed from reports
Young people will not have to repeat their stories and experiences to advocacy workers, just because they are independent
Young people will be able to choose how they want to express their views
Terms will be changed so no-one shortens them or uses acronyms
Good examples of language used effectively will be raised and shared widely
Jargon will no longer be used
Report and letter authors will write directly to the child
Authors and speakers in the Hearings System will understand the power of language
Language used in legislation will be easy to read and understand (not translated)
To meet this aim, we would ask professionals and volunteers to apply each of these language principles in the Children's Hearings System: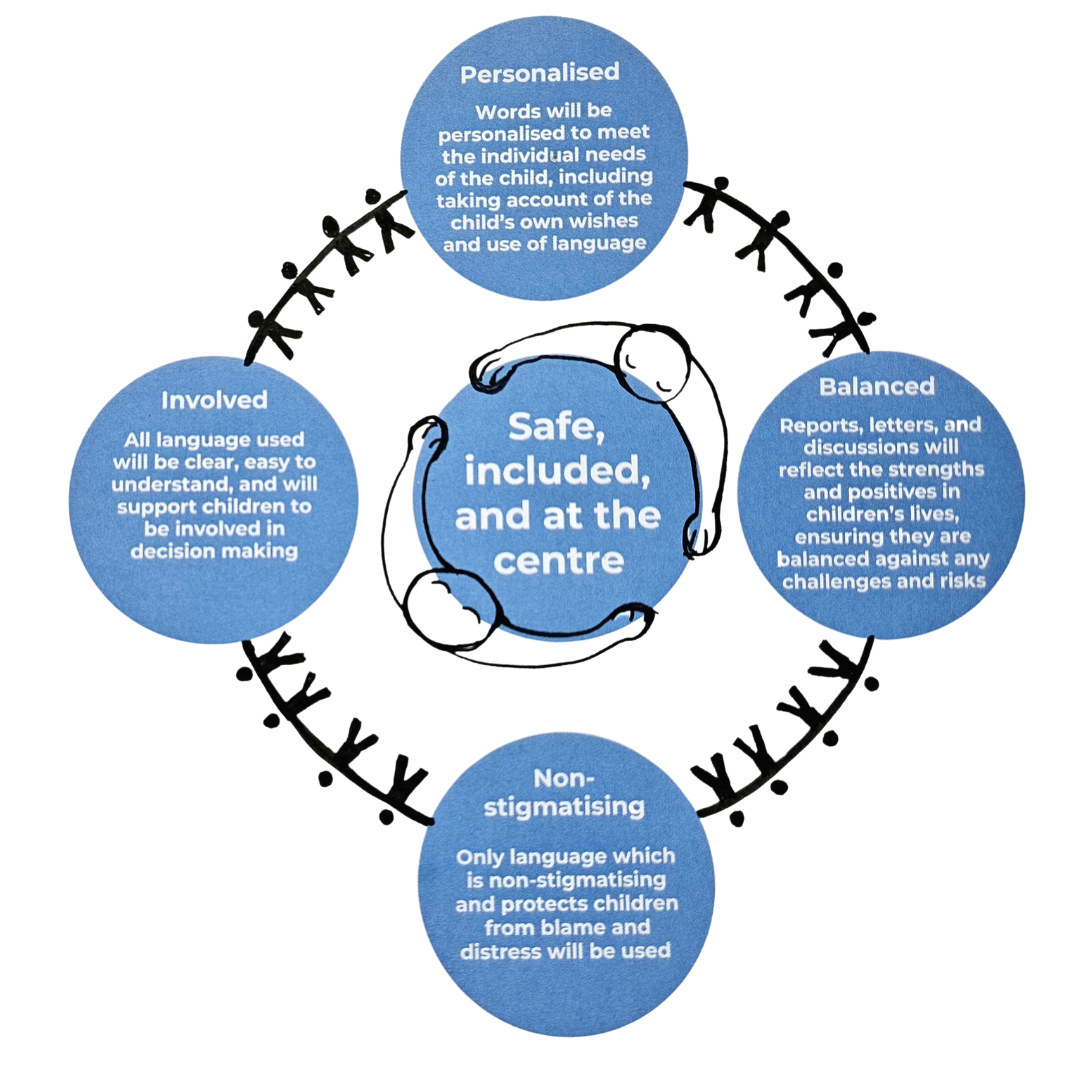 Words will be personalised to meet the individual needs of the child, including taking account of the child's own wishes and use of language
All language used will be clear, easy to understand and will support children to be involved in decision making
Reports, letters and discussions will reflect the strengths and positives in children's lives, ensuring they are balanced against any challenges and risks
Only language which is non-stigmatising and protects children from blame or distress will be used
It's Time to Have Your Say
Are there words or phrases that you wish you could 'bin' from the Children's Hearings System?
To help us identify words that can upset or confuse children and young people, we have created an interactive word bin. All you need to do is drag the words or phrases you don't like into the virtual bin!
All your suggestions will be passed to our Language Leaders group to support them in making changes.
An independent children and young people's board for the Children's Hearings System 
© 2023 OHOV