So … where did the ducks come from?
If you've spent any time following Our Hearings, Our Voice on the web (Twitter), you'll know there's a bit of a #OHOVducks thing going on. However, you might be wondering where the ducks came from and what the point of them is? Well let's 'quack' their story wide open for you…
Back in October 2018 …
It was all hands on duck, as Project Lead Jacqui worked to pull the programme together for the first ever OHOV 'Let's Get Started' Day. During this time, she was waddling around a popular budget store, looking for some 'cheep' and cheerful ideas for getting the young people to pair up together. It was a tough one to crack, however she came across some tiny rubber ducks and thought they would fit the bill perfectly. She bought a small duckload of them and headed back to the office hoping her idea would become fully fledged.
Flying forward to November 2018 …
Fly forward to November 2018 and young people from across Scotland joined the OHOV Team at the Lighthouse in Glasgow for OHOV's inaugural meeting.  Amongst the many team building activities, out came a basket laden with small tissue wrapped parcels.  Some in red tissue, others in yellow (very duckling like!)  Everyone was asked to take a parcel and once opened, find the person with the matching rubber duck.  The activity went swimmingly, and at the end Jacqui went round with the basket asking for everyone to pop the little ducks back in it.  As the saying goes – birds of a feather flock together, she was suddenly met by a 'quackophony' of voices saying…."what you want it back?….you gave it to us as a gift…no, it's mine, I mean it was wrapped up!"  So every young person went home that day with their tiny duck. Later that night we posted a few photos on social media alongside a few duck puns and the idea was hatched! Before long the young people started receiving rubber ducks from partners and individuals who clearly thought it was a cracking idea….and so the #OHOVduckMascots were born! 
Out and about
In addition to this, we've also realised the ducks are a big hit with adults, partners and decision makers – so we have been using them to raise awareness of OHOV. They've been out touring the country and you are sure to see, and hear a lot more from these wee quackers as the project develops!
Have you spotted our ducks out and about? They do get around! Take a photo with them and send them to us. We would love to see them. You can Tweet us your pics @OHOV_Scotland, using #OHOVducks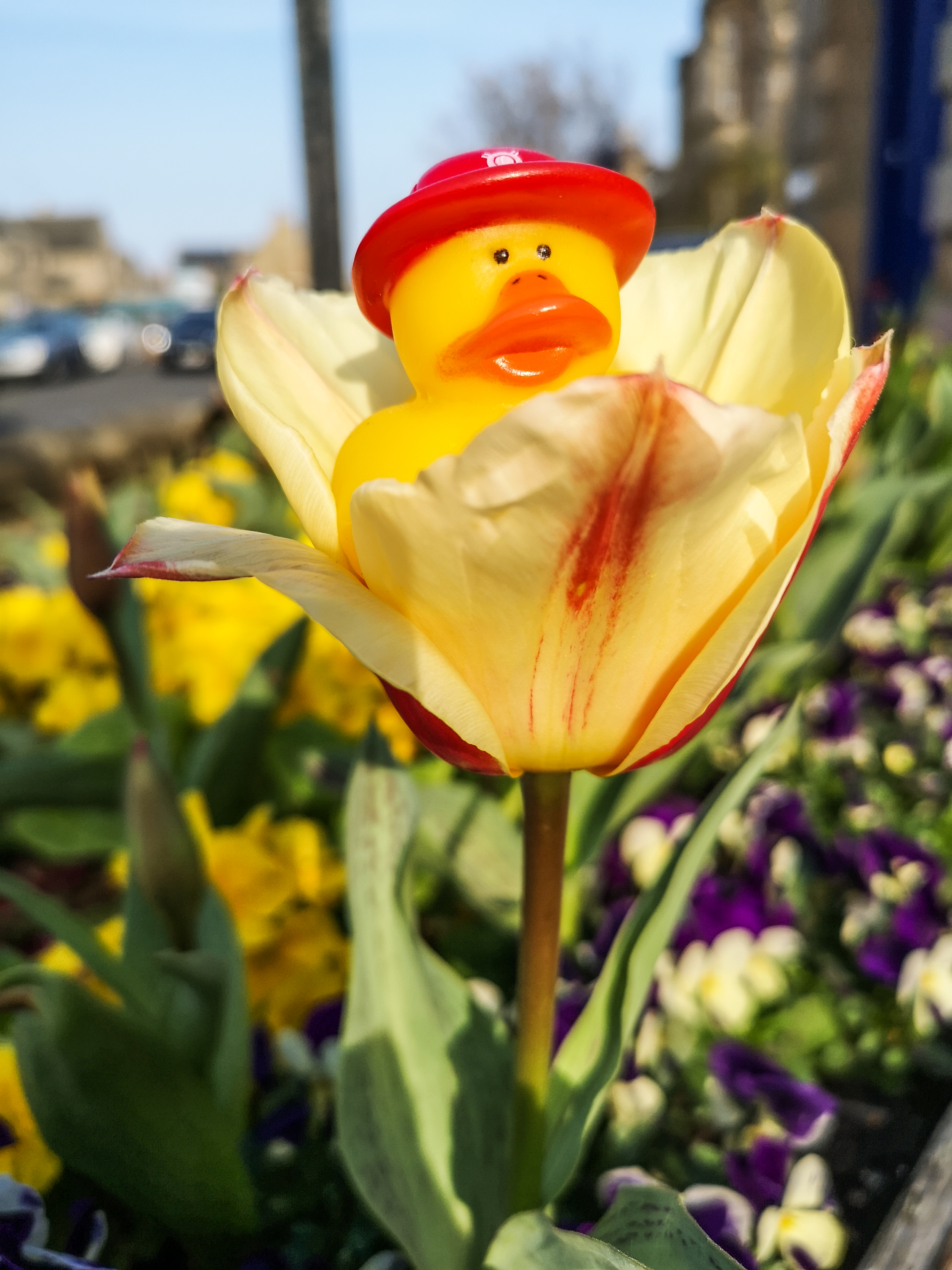 Fire duck in North Berwick gardens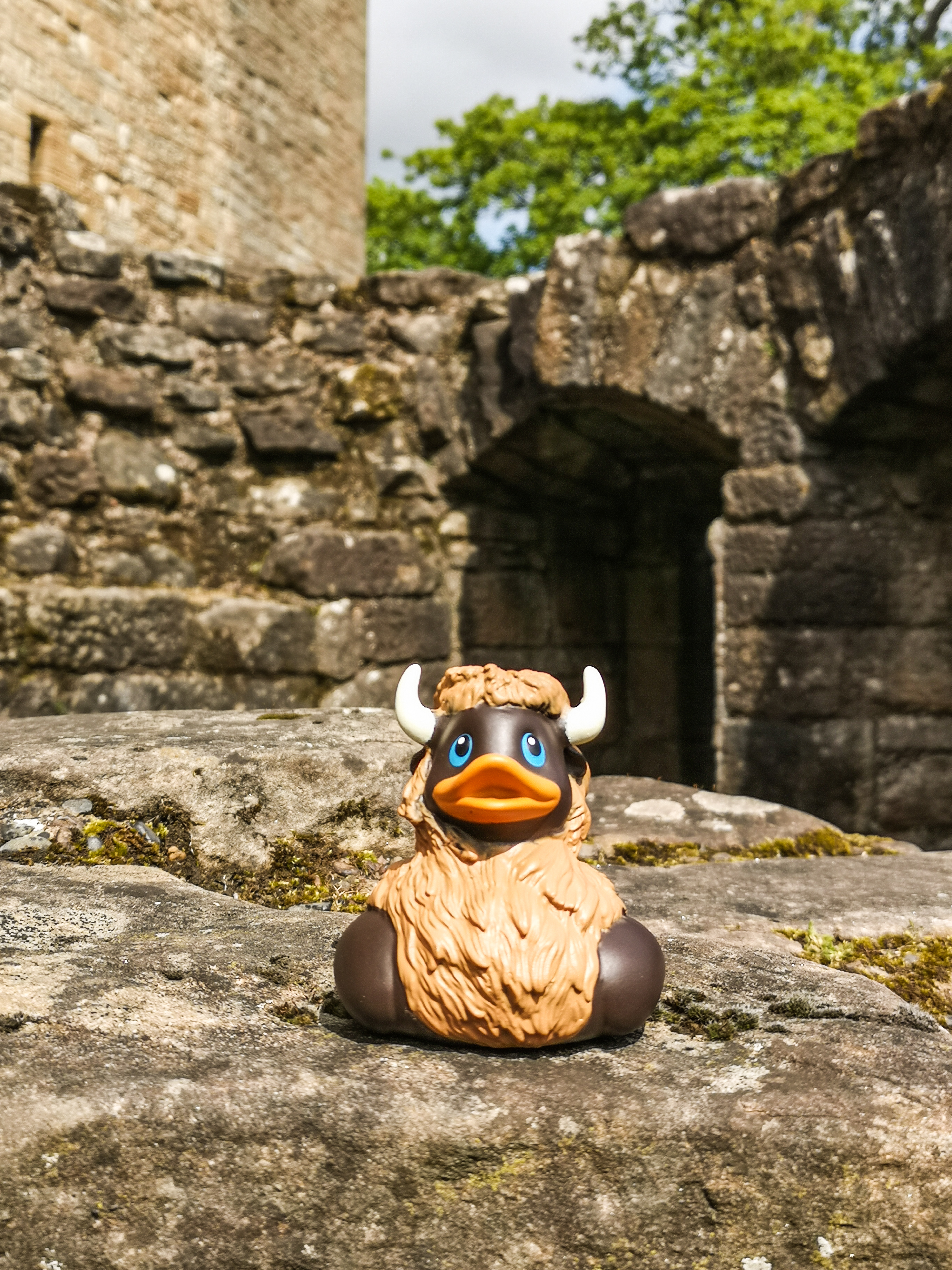 Highland coo at Linlithgow Palace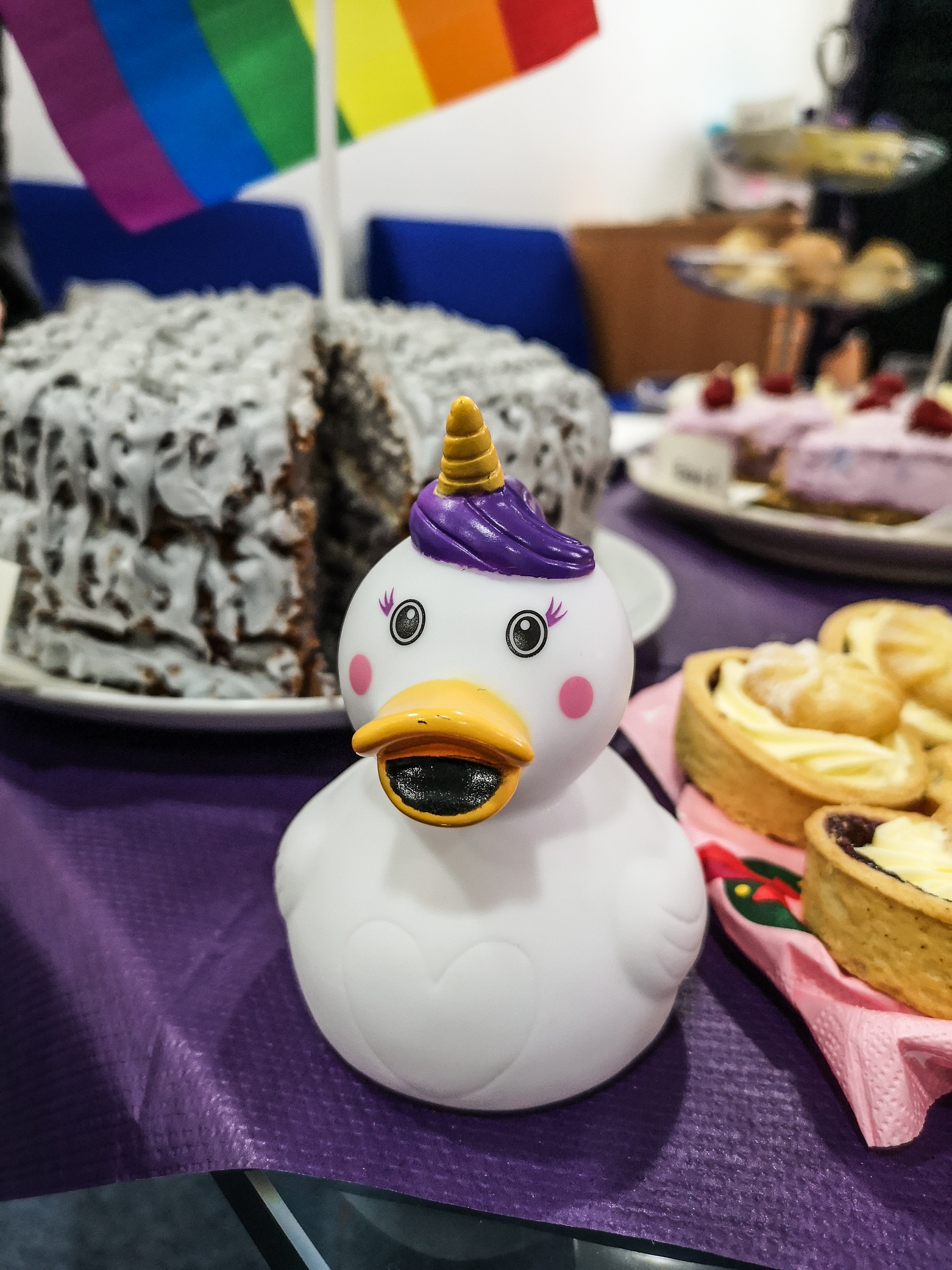 Unicorn duck celebrating Purple Friday
All duck puns aside …
There are very good reasons for us to capitalise on the energy that the ducks have created.  All the children and young people involved with Our Hearings, Our Voice have personal experience of the Children's Hearings System. We take a trauma sensitive approach to all our work, and whilst we will do everything we can to ensure the Board Members safety and well-being, we also recognise the opportunities for young people's growth and development that can come from sharing the work of the Board.   It is also important that other children, young people, partners and adults are able to keep up to date with our work too.
Moving forward …
Recently the Project has started using social media to promote the work (Twitter at the moment with Instagram to follow). We have also developed this website as our main platform for sharing our work. In partnership with the young people, we have decided that each Board Member will operate using a duck alias (profile photo and name) to ensure we are protecting their identify in line with our safeguarding responsibilities and legislation. Each Board Member has chosen a duck and name for themselves and will use these aliases for any blogs, social media posts etc. We think it's a cracking idea and hope you do to!
An independent children and young people's board for the Children's Hearings System 
© 2023 OHOV